AMERICA WINS WITH BIDEN!
Joe Biden is the best thing that has happened to the U.S. in the last four years.
He's a qualified and empathetic leader who has the confidence of the voters.
3/7/21


Asshole #2:
Tucker Carlson


Asshole #1 = Donald Trump
Asshole #2 = Tucker Carlson


The
New York Daily News
reported that Tucker Carlson defended QAnon supporters saying that they are "gentle people" who are "waving American flags."

Many participants of the mob who took part in Trump's Jan. 6th insurrection have been linked to the QAnon fringe group, which has been designated as a "domestic terror threat" by the FBI.

In reference to the QAnon cult members, Carlson said, "They like this country. They're not torching Wendy's, they're not looting retail stores, they're not shooting cops. No, that's not them."


Carlson's words came a day after police in the Washington, D.C., area were put on high alert over reports that far-right groups could potentially storm into the Capitol again.

Tucker Carlson can try, like Trump does, to re-write history by lying, but we'd like to remind him that at least five people died as a result of the Jan. 6th insurrection, and many of the perpetrators, who have been identified by the FBI as QAnon cultists, are now sitting in jail, awaiting their day in court.

You have to be a very ignorant person to continue to listen to Tucker Carlson.
---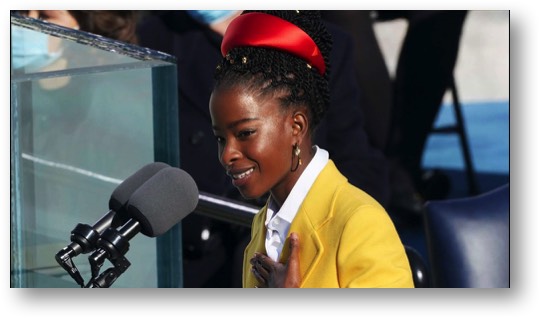 3/6/21


Poet Laureate Amanda Gorman — From Icon to Threat?
Poet Laureate Amanda Gorman, who became a national sensation when she delivered a stirring poem at President Biden's inauguration in January, said on Friday that a security guard had followed her home and told her she looked suspicious.

Gorman said, "This is the reality of black girls: One day you're called an icon, the next day, a threat." She continued, saying, "In a sense, he was right.
I AM A THREAT: a threat to injustice, to inequality, to ignorance. Anyone who speaks the truth and walks with hope is an obvious and fatal danger to the powers that be."
We must all become a "fatal danger" to the Republican party that has now remanufactured itself into a far right group of spineless and ignorant Trump-following extremists.
---
We're quite sure that Trump, the twice-impeached demonic cult leader, would not appreciate most of what's included on this web site. Do we care? Absolutely not because the real truth cannot be denied. We don't give a damn about anything Trump, America's #1 Loser, has to say or think. He already proved his absolute worthlessness and incompetence. Trump is nothing more than a "has been" embarrassment to the United States and to its citizens.

---
This web site space is being generously donated by its owner to educate the thinking public on the "real" vs. "fake" facts about Trump, the mentally deranged malignant narcissist, and his ignorant cult followers (aka "supporters").